Eumig Mark 501 Projector
From Super8wiki
Eumig Mark-501 Projector
A dual gauge silent projector. Plays Super8/Single8 and standard8.
Standard lens: Eupronet 1,6/18 mm May also be equipped with an optional zoom lens.
Filament lamp 8 V/50 W type CXR/CXL base P 30S
Auto threading
Forward/backward projection
Speeds: 9 fps and 18 fps
Reel capacity: 120m/400ft
Weight 4,2 kg.
Price(s) on eBay: EUR 20,50 (+ EUR 7,00 shipping) in 01/2006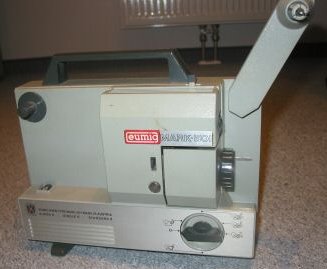 Comments
[
edit
]
A great little projector this. Sprocketless and able to run standard 8 or super 8 film. It takes the 50 Watt A1/17 bulb that is now a little pricier than the A1/123 100 Watt bulb that other projectors take.
It has a flicker less slow motion speed of 9 fps which is great for studying a film particularly if the camera man did not have a steady hand.
Another novel feature of this camera is that if you can catch the film before it comes off the forward reel the rewind can be accomplished through the gate. Selecting rewind flicks the gate open and rewinds the film.
I was greatly surprised at how steady the projection was seeing as this is not a sprocketed machine.
I picked one of these up off Ebay for about £10 plus carriage and its hard to credit that it is some forty years old. They did build stuff well in those days.
Reviews
[
edit
]
eBay Auctions
[
edit
]