Canon 310 XL
From Super8wiki

Canon 310XL
Lens: f1.0/8.5-25.5mm / macro / 43mm filter thread
Zoom: auto/manual
Frame rates: 18 + single frame
Exposure: auto / backlight adjustment (2 stops)
Film EI setting: (Artificial light) 40, 160, 250 ASA, (Daylight) 25, 100, 160 ASA
Shutter degree: 220
Viewfinder: diopter correction / Aerial image focussing / Indicators: underexposure, battery check, transport, macro
Sound: no
Batteries: 2x 1.5V AA
Extras: remote socket (mechanical cable release)
Year of Production: 1975-1983
Weight: 580g with batteries
Used value: 20-30 USD
Instruction manual: Canon 310XL manual at mondofoto
Made in Taiwan ROC
Also available refurbished as Rhonda Cam
Original Prices:

Japan, 1975: 44500 yen
Western Germany and Berlin (West), 1976: 498DM (approx. 255 EUR)

eBay Prices:

USD 22.50 (+ USD 0.00 shipping) in 07/2007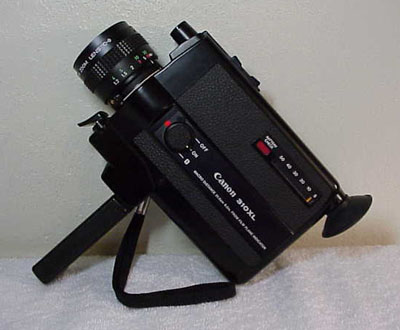 Using Ektachrome 64
[
edit
]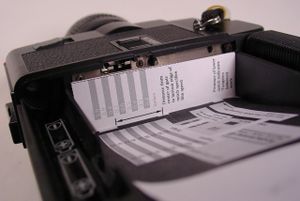 The Canon 310XL instruction manual states that the meter understands 3 film speeds: 40T, 160T, and 250T. It appears that a 64T notch will be read as 160T due to Canon's placement of the notch reading switches. Click the picture for details.
Some users report having had success using a neutral density 0.6 (2-stop) filter held over the exposure meter.
Comments
[
edit
]
The camera is available with a variety of skins including animal print and camouflage. Eventually it is likely that custom skins will be available.
To open the camera for repair, there are 3 screws on each side hidden under the glued-on leatherette panels.
This camera has the fastest 3x zoom-lens made for any Super 8.
The built-in filter is cancelled when using some film cartridges, such as Kodak Tri-X. This can be changed by cutting out a notch in the cartridge with needlenose pliers. See Super_8_Cartridge_Notch_Ruler for the position of the filter notch.

Edit: July 12th, 2008 by vidwerk:
This camera can correctly expose Ektachrome 64T. For daylight shooting, do the following:
attach an external 85B filter to the front threads(43mm).
ensure that the red backlight compensation lever is in the "up" position.
put the filter switch to the tungsten position (light bulb).
Ensure that only 1 asa film speed detection pin is engaged (may have to force it over a bit).
Voila, push the button and start filming.
Here are my camera tests in quicktime format (see first shot of black parked car).
www.vidwerk.ca
Edit: March 21st, 2009 by mvanginkel:
As vidwerk said, it is possible to expose Ektachrome 64T on the Canon 310XL. But, in my case, even without any add-on filter. December last year I've made a test exposure, on a day with sun and clouds (sometimes covered). The only thing I did, was the following:
cover up the cut-out on the right side of the film (be sure that both notches inside the camera are being pushed in)
use the daylight setting
mount an UV-filter (I've used the original Canon UV 1x filter)
Again, push the button and start filming! It's not the most sharp online version, but you'll get an idea how it looks whilst filming this way. this is my test: note the helicopter, which is quite recognisable
Reviews
[
edit
]
This is an excellent all-around Super8 camera; lightweight, easy to use and rather rugged. Additionally, the image quality is impressive and with the macro feature, the 310 XL is very flexible once it comes to your choice of subjects. One of the most memorable features of this camera is the fact that the battery indicator light, macro indicator, light exposure indicator and film rolling indicator are all within the viewfinder. It's truly amazing how this much information can be displayed in an entirely analog camera.
eBay Auctions
[
edit
]