Canon 1014 Autozoom Electronic
From Super8wiki
Canon 1014 Autozoom Electronic
Year: 1972-1979
Weight: 2000 g (4.41 lbs)
Lens: Canon zoom 1,4 / 7 - 70mm (Filter size: 58mm)
Macro focusing
Split Image Focusing
Auto / Manual Zoom with two speeds
Frame rates: 18, 24, 54 + single frame
Shutter degree: variable to 150
Manual / Auto Exposure
Flash contact
Fades
Lap dissolve of 60 frames
Rewinding / Double Exposure
Run lock
Remote control socket
No sound
6 X AA batteries
Made in Japan
Used Value: USD 80 - 200
Original price in Japan in 1973: 119900 Yen
Prices on eBay:
eBay USA:

US$ 316 in 07/1999
US$ 325 in 08/1999
US$ 260 in 08/1999
US$ 168 in 06/2007

eBay Germany:

EUR 128,71 (+ EUR 7,00 shipping) in 11/2006
EUR 53,88 (+ EUR 6,90 shipping) in 03/2007
EUR 11,50 (+ EUR 5,90 shipping) in 03/2007 (sold as "broken")
EUR 95,00 (+ EUR 6,00 shipping) in 04/2007

eBay Austria:

EUR 150,00 (+ EUR 6,08 shipping) in 02/2007
EUR 45,05 (+ EUR 8,00 shipping) in 03/2007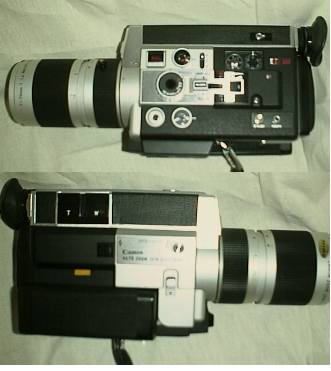 Comments
[
edit
]
Canon's top model in the early 70's.
See this camera in canon's online-museum.
An online-repair-manual can be found here with some more details on subpages like:
Reviews
[
edit
]
A highly desirable camera for both use and collecting. Generally reliable but cameras do fail electrically and become completely dead since there appears to be a weakness with the supply between the batteries in the grip and the camera body. Similar to the 814 Electronic but has a faster slow motion speed (54 instead of 40), superimposition and lap dissolve in addition and a superb 10:1 zoom lens of the same filter thread size (58mm) as the 814E. The wideangle end starts at 7mm. And as 6mm would have been better, an aspheric converter can be fitted for wider views. Cheaper than the sound version 1014 XL-S and hence better value for money using silent cartridges.
eBay Auctions
[
edit
]
If you know a better eBay search, please edit this section and enter it between the tags