Canon 1014 XL-S CANOSOUND
From Super8wiki
Canon 1014XL-S CANOSOUND
Year: 1978-1983
Weight: 2100 g
Lens: Canon zoom 1,4 / 6,5 - 65 mm
Macro focusing
Split Image Focusing
Auto / Manual Zoom with 2 Speeds
Frame rates: 9, 18, 24, 36 + single frame
Shutter degree: selectable: 150° and 220°
Manual / Auto Exposure
Backlight Control
+/- correction for auto exposure
Flash contact
Fades
Lap dissolve of 90 frames
Remote control socket
Interval timer with 1,5,20,60 second intervals
Sound with auto / manual recording level control
6 X 1,5V batteries
Dimensions (W x H x D): 59.5 x 113.5 x 264 mm
Weight: 1990 g (Body only), 2100 g (Including batteries)
Instruction manuals in English and Svensk can be downloaded here: http://www.apecity.com/manuals/
Made in Japan
Price when new: 2000DM (approx. 1000EUR/US$) in Germany
Prices on eBay:
eBay USA:

$605 in 06/2009 (used but said to be in great condition...)
$355 in 08/1999

eBay Austria:

EUR 257,85 (+ EUR 5,00 shipping) in 11/2006
EUR 81,00 (+ EUR 7,80 shipping) in 02/2007 (camera had a scratch on the lens)
EUR 334,77 (+ EUR 7,50 shipping) in 02/2008

eBay Germany:

EUR 269,78 (+ EUR 6,90 shipping) in 03/2007 (camera with close-up lens and 1.4x tele converter)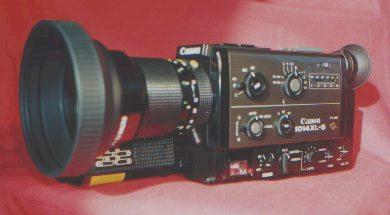 Comments
[
edit
]
Top model of Canon after 1978.
Repair instructions:
An extremely popular, solid, and sought-after camera. A large number were sold originally and availability is good. Can use Nizo UWL wide angle adaptor (67mm.) Desirable and rare accessories include chest-pod, external battery box, and leather carrying bag.
Reviews
[
edit
]
In terms of heft and feel, the 1014XLS has many fans. Some prefer it to the Nizo 6080, in terms of reliability and workmanship. Repair is scarcer than for the Nizos, but available. Pin sharp lens, extra large viewfinder image, like looking out of a living room window. Highly sought after, but fairly noisy. Fantastic footage, a cut above most other cameras and readily apparent.
eBay Auctions
[
edit
]