Bauer A 512 Profiset
From Super8wiki
BauerA 512 Profiset
BauerA 512 Profiset
Specifications
Model
BauerA 512 Profiset
Format(s)
Super8
Manufacturer
Bauer
Made in
Germany
Produced
1977-1980
Lens(es)
Macro Variogon 1,8 / 6 - 70 mm
Zoom
Auto/Manual (2 Speeds)
Macro
Yes
Frame rates
12, 18, 24, 54 + single frame
Exposure
please add
Focus
Split Image
Film speeds (ASA/ISO)
25/40, 100/160
Shutter degree
variable
Sound (striped)
No
Sound (two-band)
No
Sound (optical)
No
Weight
1350 g
Dimensions
please add
Power supply
please add
Original price ($US)
please add
Original price (£)
please add
Original price (DM)
please add
Original price (Yen)
please add
Recent prices on eBay ($US)
please add
Recent prices on eBay (£)
please add
Recent prices on eBay (€)
please add
Special features
[
edit
]
Fades
Lap dissolve
Interval timer
Time exposure
Remote control socket
Flash contact
Comments
[
edit
]
The top model of Bauer's "A" series.
Like every BAUER: According to test and info of the instruction manual it can only meter 40 and 160 ASA in artificial light with the corresponding 25 and 100 ASA in daylight.
The original, unmodified camera can not run the Ektachrome 64T automatically.
Modification see: http://mimundoensuper-8.blogspot.com/2016/08/bauer-a512-la-evolucion-de-la-camara.html (modification done by Mr. Egido from http://www.cine-super8.net/ )
Warning: Do not change sensitivity generally! In this case the 25/40/100/160 ASA films will be underexposed!
Reviews
[
edit
]
2010 by Geoval
[
edit
]
Solid, reliable German Super 8 with a tack sharp Schneider Kreuznach Macro Variogon 6 - 70 mm /f1.8, nearly identical to the Zeiss GS8 in resolution and color rendition, but even more contrasty and film-like. This is one of two Super 8s I know capable of making automatic timed exposures in low light. I shot a full moon with it once and it looked liked something out of a 60s Hammer horror movie! I absolutely loved the contrasty image quality I got with my A512 but the deal breaker for me was the inadequate Bauer viewfinder - like most Bauers, the viewfinder eyecup is inexplicably designed so that it's not only uncomfortable to the eye but somehow allows stray light to get inside the optical path causing reflections and momentary blindness. I sold mine to buy my Nikon R10 and never looked back - Geoval.
2016 Review by Super8Scientist
[
edit
]
This is one of those cameras that can command a higher price at auction because of it's excellent lens, reliable construction (I own 3 used cameras and all worked straight out of the box) and automatic-B function. It is very comparable to a Nizo Professional, but has an advantage in my opinion due to a slightly better lens and 24 fps running speed. Compared with the Angenieux 6-90 lens on the 715 XL, I find this lens to produce slightly cooler colors, but both lenses will yield a very sharp image not unlike the ones from a Beaulieu with a 6-66 Schneider or 6-80 Angenieux. The camera is a lot less cumbersome than the 715 XL which can be a plus. I have yet to have a problem with the hand grip but supposedly the wire connections can become iffy if you mess with the handle turning too much. It is a near perfect camera, but to iterate what the above reviewer posted, there is a certain way you have to look through the viewfinder so that stray light doesn't get in the way. The camera is still very usable if this is something you can get used to. If you can find a right-angle viewfinder which fits, or if you fit a cctv camera to the eyepiece and attach it to a monitor, this may eliminate the problem completely. I am looking into these options and will update the review if I find a solution.
(move to infobox on the right as soon as uploaded to Super8wiki)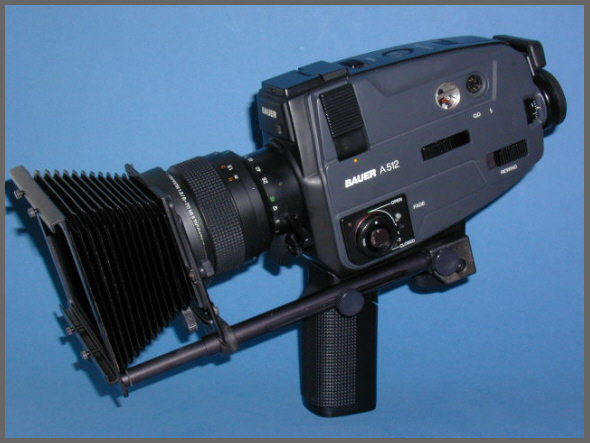 eBay Auctions
[
edit
]