MKM MODEL 824 SUPER-8 HORIZONTAL EDITING TABLE
From Super8wiki
MKM MODEL 824 SUPER-8 HORIZONTAL EDITING TABLE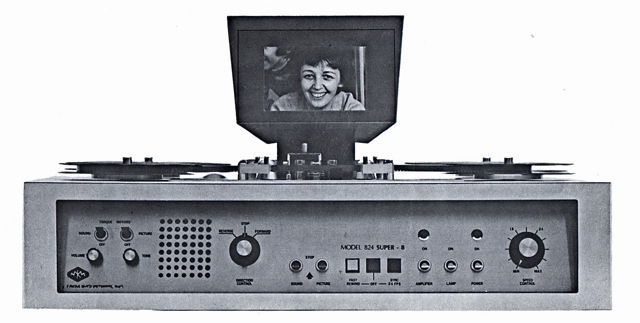 The MODEL 824 is a horizontal editing table with one Super-8 picture and one Super-8 full coat sound track. It permits straightforward editing since picture and sound correspond frame for frame and in length.
The table has four independent winding motors and an inching knob for manual operation The film head is equipped with an eight-sided prism and the picture is rear projected onto a daylight ground glass. The sound is reproduced through a built-in speaker. Jacks for earphones or a remote speaker are provided. The film and sound tracks can be uncoupled and moved independently.
• Forward and reverse speed is continuously adjustable
• Frame counter
• Common start socket
• Bright picture display area of 150 x 110 mm
• 250 meter reels capacity
• 150 watt / 21 volt halogen lamp with dichroic reflector. Light path contains an additional dichroic mirror in order to keep the film cool. Lamp and film are air cooled.
• High fidelity solid state audio amplifier
• Heavy flywheel for good sound reproduction
• Push button controlled synchronous motor
• Two channel amplifier with head
• Edge track head
The Model 824 measures 710 x 605 x 150mm and it weighs 31 Kg.

PRICES (from JUNE 1, 1977)
Model 824 Horizontal Super 8 Editing Table............................$1,995.00
Pushbutton controlled synchronous motor for accurate 24fps speed.........255.00
Two channel amplifier with head..........................................185.00
Edge track head (sound film).............................................225.00
Electronic frame counter with Vi" LED readout............................195.00