Fujica P300 New
From Super8wiki
Fujica P300 New
Data assembled by Muddy Orihara and Con Koutsomitis and used by their kind permission:
Year: 1972
Lens: Fujinon zoom lens 1.8 / 10.5-27.5mm (Filter thread: 35.5mm)
Manual zoom
Viewfinder info: Single Lens Reflex, exposure meter
Focus method: arial focus
Exposure: cds EE, individual exposure window (requires H-2D mercury cell), exposure adjustment (+1 f-stop)
Frame rates: 18 fps
Shutter angle: 160°
Optional parts: film rewinder
Dimensions: 52mm x 154mm x 185mm
Weight: 680g
Retail Price:
Japan: 29800yen
Germany: approx. 400DM (approx. 200EUR/US$)
Prices on eBay:
Ebay Germany:

EUR 1,99 (+ EUR 4,30 shipping) in 11/2005
EUR 1,00 (+ EUR 4,90 shipping) in 01/2007
EUR 16,50 (+ EUR 4,00 shipping) in 01/2008
EUR 1,50 (+ EUR 5,00 shipping) in 05/2013
EUR 1,00 (+ EUR 5,00 shipping) in 05/2013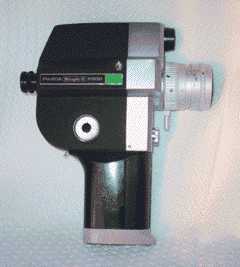 Comments
[
edit
]
This is a Single8-camera!
Improved version of the Fujica P300: the predecessor did have another grip and didn't had an "exposure adjustment"-feature. The "New" version does have a black exposure-meter because of that "adjustment"-feature.
More info can be found here and here.
Reviews
[
edit
]
by Jörg Polzfuß
[
edit
]
My Fujica P300 New arrived yesterday. Even though I thought of getting rid of all 18fps-only cameras, I couldn't resist the low price on eBay (EUR 6,29 incl. shipping). The camera is indeed very small (even though the P2 Zoom is even smaler) and light-weight. Nevertheless it seems to be a solid construction. With its very small zoom-range and the "snapshot-focus"-position at 5 meters, the camera really should be able to give sharp pictures when shooting objects at a distance between approx. 1.5m and 20m on a sunny day. Hence this is a perfect easy-to-use camera that nearly fits into any pocket. Unfortunately the camera is fixed to 18fps - I'm not sure whether I'll open and try to convert it to 24fps or not.
The differences between the "New" and the "Old"-version are minor: The "exposure adjustment"-feature is just a piece of plastic that can be moved to block a part of the exposure-meters' lens. (I still don't know whether I should laugh about this simplicity or whether I should admire it.) Nevertheless the new grip is suited better to keep the camera slipping out of your hand than the old one.
My advice: Buy this camera if you can find it in a good condition for less than EUR 10 and if you don't mind the 18fps-only.
eBay Auctions
[
edit
]