Eumig Mini 3 Servofocus
From Super8wiki
Eumig Mini 3 Servofocus
Year: 1972-79
Lens: Vario-Viennon 1,9 / 9 - 30 mm
Fixed Focusing - Servo focus maintains optimum depth of field
Manual Zoom
Frame rates: 18 + single frame
Shutter degree: 190
Auto Exposure (Not TTL)
Backlight Control - increase exposure by 1 f stop
No sound
Weight: 525 g (including handle)
2 X AA batteries
Made in Austria
Original price in England (in the year of introduction): £57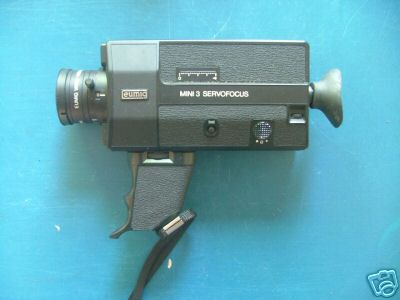 In the Eumig presentation case with batteries and filter key.
Comments
[
edit
]
Successor of the Eumig Mini 3 Zoom Reflex, predecessor of the Eumig Mini 3 Servofocus PMA.

A very compact cine camera which was great when Kodachrome was available. ASA sensing is with one switch in the film compartment selecting between 25/40 and 100/160 ASA film. Unfortunately there is no filter switch in the film chamber inserting the external key to remove the filter switches the camera to 40 or 160 ASA sensitivity making it not fully compliant with Ektachrome 100D. Using the back light extra exposure setting might however make up for the lack of exposure. I own this camera but as yet have to try using it with 100D film.
eBay Auctions
[
edit
]
If you know a better eBay search, please edit this section and enter it between the tags