Canon Auto Zoom 814
From Super8wiki
Canon Auto Zoom 814
Year: 1966-1971
Weight: 1720 g
Lens: Canon zoom 1,4 / 7,5 - 60 mm
Filter Size: 58 mm
Microprism Focusing
Auto / Manual Zoom
Frame rates: 12, 18, 24 + single frame
Shutter Opening: 155 degree
Manual / Auto Exposure
Tungsten type film: ISO 25, 32, 40, 50, 64, 80, 100, 125, 160, 200 and 250
Daylight type film: ISO 16, 20, 25, 32, 40, 50, 64, 80, 100, 125 and 160
Fades
No sound. Note: some were made with sound sync output jack compatible with Bell and Howell Filmosound cassette tape recorders.
4x AA batteries for motor, 2x 1.3V PX625 (mercury) batteries for meter. No batteries required for manual aperture control.
Battery check Push button
Instruction manual diagram: at mondofoto
Made in Japan
Used Value: USD 25 - 40
Prices on eBay:
eBay USA:

US$76 in 07/1999
US$128 in 07/1999

eBay Germany

EUR 3,61 (+ EUR 4,10 shipping) in 02/2007 ("untested" camera)
EUR 1,99 (+ EUR 8,90 shipping) in 03/2007 ("untested" camera, sold as "broken")

eBay UK

GBP £21 (+ £37 shipping) in 08/2009 (Functioning, without batteries, with original case)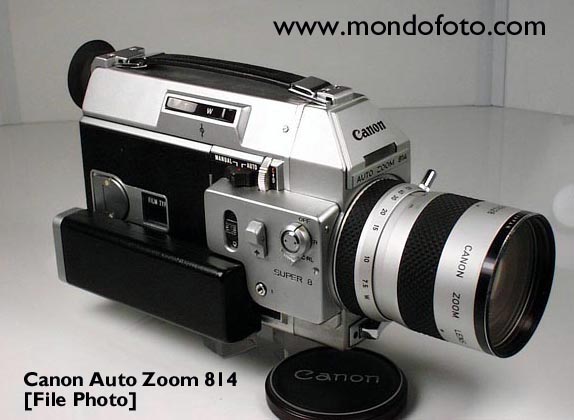 Comments
[
edit
]
Canon's third Super 8 camera appeared at the Photokina exhibition in 1966 and sold until about 1972 when it was replaced by the Auto Zoom 814E (Electronic). Heavy, all metal, high quality camera. Many sold, reliable and has an excellent lens. Metering recognises Ektachrome 64T correctly.
N.B. Any users should be careful while using polarizing filters with that camera due to the TTL (Trough the lens viewfinder) system. Users have to use CIRCULAR polariser only. A LINEAR polariser would ruin your image and turns it to pitch black footage due to the built-ins polarized mirrors that sends the image in the viewfinder and in the gate simultaneously. The same phenomenon occurs while putting two polarizing filters back to back in a Matte box.
The camera is also the basis for Pro8mm's Pro814.
An online-repair-manual can be found here with some more details on subpages like:
Reviews
[
edit
]
I'm a big fan of this camera. Its very tough and long lasting and many working examples are still around. The basic concept lasted until 1983 when the final examples of the sound version the 814XL-S were produced.
The TTL metering is accurate and recognises all Super 8 cartridge film speed notches up to EI 250. It requires button cells to operate the meter which is a nuisance. This was done away with the 814E that used AA batteries only.
I like the carrying strap on the top that is very useful and the camera is well balanced. It provides three of the most useful speeds 12, 18 and 24 fps but no slow motion. Large clear viewfinder with an excellent zoom lens. No macro so use a front close-up lens in the 58mm filter thread. It has single frame release by cable release so not suitable for automatic time lapse filming.
Second hand prices are very variable as it is collectable like all Canons but working examples without cases or instructions can be obtained for less than £20.
eBay Auctions
[
edit
]