Canon 814 XL-S
From Super8wiki
Canon 814XL-S
Lens: Canon Zoom C8 7-56mm f1.4 Macro
Zoom: auto / manual with 3 Speeds
Frame rates: 9, 18, 24, 36 + single frame
Exposure: auto / manual / AE lock / "+/-" correction for auto
Shutter degree: 220/150 variable
Extras: fades / interval timer with 1, 5, 20 & 60 sec. intervals / remote socket / flash contact / macro focusing
Year of Production: 1978-83
Country of Manufacture: Japan
Prices on eBay:
eBay USA:

US $373 in 07/2005
US $425 in 11/2005
US $345 in 09/2016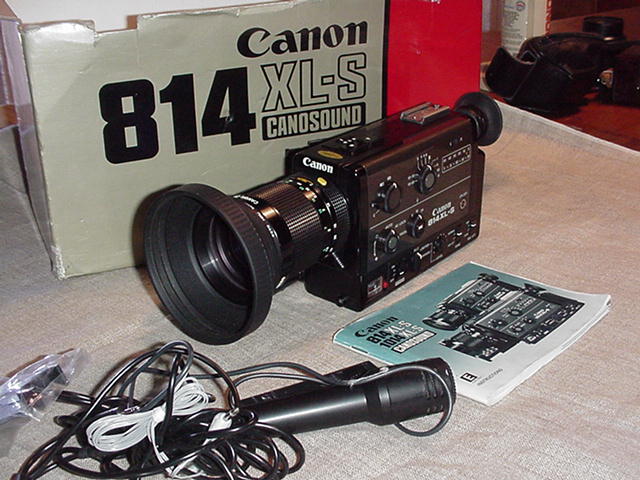 Comments
[
edit
]
Instruction manuals in English and Svensk can be downloaded here: http://www.apecity.com/manuals/
Repair instructions for a similar camera: Canon1014XL-S: how to disassemble
Other repair instructions:
Reviews
[
edit
]
by Geoval
[
edit
]
My 814XL-S Review
I read somewhere that the 1014XL-S is THE Super 8 camera to be stuck in a desert island with. I agree except I'd change the model to the 814XL-S. Sexiness and coolness factor aside, the versatile 814XL-S is as close to perfection as a Super 8 camera can get. Why do I prefer the lesser 814XL-S over the more expensive 1014XL-S? Sharper lens and better ergonomics. The Canon Zoom 7-56mm f1.4 Macro on the 814XL-S is sharper and lighter. The Canon zoom 6.5 - 65 mm f1.4 macro on the 1014XL-S is wider, longer and heavier. Making the 1014XL-S nose heavy and unwieldy in your hands. Both models were designed and engineered in the early 80's and as such they are as advanced and reliable as modern Super 8 movie cameras can get. If Canon were to design a top of the line Super 8 camera today I doubt they could improve on the design and performance of the 814XL-S, except for maybe getting rid of the all-electronic exposure system and adding a true mechanical iris. Like most super 8s built in the 80s the manual override on the 1014XL-S & 814XL-S models is electronically coupled to the Electronic Exposure, which means that if the EE goes on you, the manual override is rendered inoperative, and so is the camera. Having said that it's also important to note that both the 1014XL-S & 814XL-S models are very reliable and highly serviceable. Trust me, you can't go wrong with either camera but a film-tested 1014XL-S will rarely sell on eBay for less than $900. While a working 814XL-S, on the other hand, regularly sells on eBay for around $300-500, making it a definite Best Buy. As much as I love the superior imagery my Zeiss GS8, Nikon R10, and Beaulieu ZM2 produce, I lately find myself shooting more and more with my versatile 814XL-S -geoval
by Super8Scientist, 2016
[
edit
]
This is a very well built camera (a "metal box" if you will), a testament to Japanese engineering and the marvel of the last generation of Super8 cameras. The one I got off an auction website has a badly corroded battery contact but still completely works somehow. The big and bright viewfinder makes it very easy to frame and focus. I love the sleek and ergonomic design of the body and the handle. The body is decently thick metal and the internals contain a chip that controls the frame-rates, making them very accurate. The lens is very sharp, renders colors well, and is exceptionally good in low-light situations, 9/10. I used this camera recently while I was at an aquarium and still managed to get sharp, well-exposed images even with the low natural lighting.
This may be a more difficult camera to use if you're left-handed or left-eyed. The "sunken-in" position of the eyepiece isn't designed with left-eyed people in mind. I prefer the eyepiece of the 814E.
eBay Auctions
[
edit
]