Canon 514 XL
From Super8wiki
Canon 514 XL
Year: 1976-1983
Weight: 600g
Lens: Canon zoom 1,4 / 9 - 45 mm (43mm filter thread)
Macro focusing at wide angle and tele ends
Split Image Focusing
Auto / Manual Zoom
Frame rates: 9, 18 + single frame
Shutter degree: 220
Auto Exposure
Self timer with 10 seconds delay
ASA settings Tungsten 40, 160, 250, Daylight 25, 100, 160
EE lock control
No sound
2 X AA batteries
Made in Japan
Used Value: USD 20 - 35
Prices on eBay:
eBay USA:

US$64 in 07/1999
US$150 in 07/1999
US$57 in 07/1999

eBay Germany

EUR 1,00 (+ EUR 7,20 shipping) in 03/2013
Cartridge Notches
[
edit
]
Due to the placement of the notch sensing switches it appears that this camera will think that E64T is 160 ASA so will underexpose. Use the EE lock to adjust your exposure to be 1 and 2/3 stop more than the camera suggests.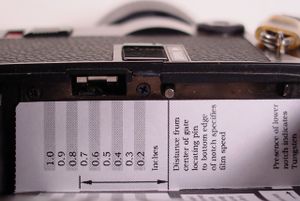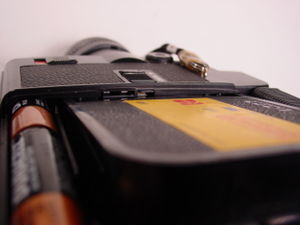 Comments
[
edit
]
Ektachrome 100D should be exposed correctly in daylight but is very slow in artificial light so 200T film will be better. Check if read by camera as 160T.
This camera is great for making movies with extremely low light like candles or moonlight. It is a perfect quick simple Super 8 camera if you want to shoot under various lights from moonlight to sunlight. The results will be the best if you use high speed film-stock like VISION 200t or 500t. The prices of those cameras are sold are too overpriced nowadays. I recommend you use this if you are going on travel or quick making shorts.
eBay Auctions
[
edit
]