Bell and Howell 70
From Super8wiki
Bell and Howell 70 - aka Filmo
Year: 1923-1970s (50 years!)
Format: Standard 16mm.
Film Load: All models accept 50 or 100 ft rolls.
Film Type: Double perf (2R) early models, 1R or 2R later models
Lens: Single C mount or triple C mount turret
Manual Focus
Side mounted non-reflex viewfinder
Small critical focusing screen added from 70DA onwards
Manual Exposure
Frame rates: 8-16, 16-32 or 8-64 variable non-sync
Shutter: 204 degrees open sector (216 on some high speed models)
No single frame without special Bell & Howell accessory
Spring motor runs 22 ft (37 seconds @ 24fps)
Later models have shaft for motor or hand crank
Limited backwind possible with shaft models
No sound, no electronics. Entirely mechanical camera.
5 oiling points for periodic lubrication
http://www.tfgtransfer.com/filmo.htm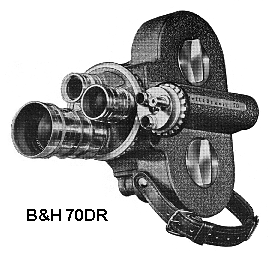 Comments
[
edit
]
Main Models:
70A - First introduced 1923/4, one of the first 16mm cameras. Black, single C mount for lens, dual perf sprockets. Speed governor on front (8-16 or 16-32 fps).
$40 eBay 8/2005
70B - Introduced 1925. High speed version 128 fps
70C - Introduced 1928, first turret model.
70D - Introduced about 1930. Improved "revolving drum" variable angle viewfinder, 7 filming speeds introduced (8 to 64 fps)
70DA - Introduced about 1931. The first "modern" Filmo - mechanically. Speed governor moved into clockwork mechanism. Parts mostly interchangable from now on. Critical focusing screen added. Black or brown, single or dual perf sprockets.
$40 eBay 8/2005
70DL - Introduced 1940's. Improved positive 3 lens viewfinder on small turret. Brown, single perf.
$60 eBay 8/2005
70DR - Introduced early/mid 1950's. 3 lens viewfinder turret geared to main lens turret. Brown, single perf. The state of the art in rugged American 16mm technology of its day, this is the model to get.
$100 eBay 8/2005
70E - Introduced about 1935. Cheaper version of DA without turret
$40 eBay 8/2005
70H - Able to accept 400' magazines and external electric motor
$60 eBay 8/2005
70HL - 400' magazine/ext. motor version of DL
$100 eBay 8/2005
70HR - 400' magazine/ext. motor version of DR
$150 eBay 8/2005
70KRM - Military version of 70HR. Military green.
$250 eBay 8/2005
70SSR - High speed model
Eyemo and Filmo Manuals can be found at the NCS Products Site: http://www.intervalometers.com/bh/index.php

Audadvnc: The B&H 70 Filmo was one of the first 16mm cameras, introduced in the 1920's for amateur and home movie shooting. Its ruggedness and compact size made it a common MP camera in the Armed Forces from WW2 through the Viet Nam era and a very popular silent newsgathering camera in the 60's and 70's before the onset of video news gathering. The camera accepts "C" mount lenses on its 3-lens turret; early Filmos used Cooke lenses; a common lens complement in the later Filmo DR/HR/KRM series was the Angenieux 15/25/75 set. Several Filmos have been fitted with zoom lenses from Som Berthiot or Angenieux, which tend to be rather heavy for the C mount and camera, but can still work OK.
Of the MP cameras I've owned over the years, the 16mm Filmo DA/DR is the one I most like to use when given the chance. It's simple, comfortable to use, uniquely handsome and virtually indestructable. It doesn't have the precision, high-tech finesse of an Arri or Aaton, and it can't be used as a sound speed dialog camera, but it (and its big brother the 35mm Eyemo, B&H 71) is a classic smart design that if treated with a bit of respect will take steady pictures as long as they're making film. It's the DC3 of film cameras.
eBay Auctions
[
edit
]