Agfa Movexoom 10 MOS Electronic
From Super8wiki
Agfa Movexoom 10 MOS Electronic
Year: 1976-1977
(Other sources claim: 1974-79)
Lens: Variostar 1,8 / 6 - 60 mm
Macro focusing
Split Image Focusing
Auto / Manual Zoom with 2 Speeds
Frame rates: 9, 18, 24, 54 + single frame
Manual / Auto Exposure
Backlight Control
Flash contact
Fades
Lap dissolve
Remote control socket
Cable release socket
Interval timer with 0,3;1;60 second intervals
No sound
6 X 1,5V batteries + No separate battery for light meter
Made in Germany/Japan
Manufacturer: Agfa-Gevaert
Original price in Germany: 2100DM (approx. 1050EUR/US$)
Prices on Ebay:
Ebay Germany:

10 EUR (+ 7 EUR shipping) in 10/2005
25,50 EUR (+ 6,70 EUR shipping) in 10/2005
15,50 EUR (+ 7,50 EUR shipping) in 01/2006
17,15 EUR (+ 7,00 EUR shipping) in 03/2006
17,50 EUR (+ 7,50 EUR shipping) in 04/2006
10,00 EUR (+ 15,00 EUR shipping) in 05/2012 (not working; beware of this seller: mh-photografica)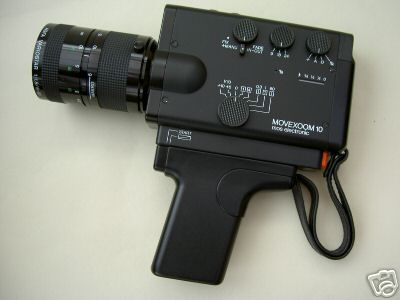 Comments
[
edit
]
Silent version of the Agfa Movexoom 10 Sound MOS Electronic; pretty much the same as the Agfa Movexoom 6 MOS Electronic, but with a 10:1 zoom lens with macro focussing. It reads Ektachrome 64T as ISO 25/40 so a 2/3 stop correction is needed.
Reviews
[
edit
]
This is a large, heavy, black camera with a wide range of facilities. The Variostar zoom lens is one of the very few that gives a 6mm wide angle without an aspheric attachment. Little advertised by Agfa in the amateur movie magazines, it's very reminiscent of the Nizo sound cameras.
Very under rated and cheap (2010) in the UK its value can only go up.
This is in my opinion, AGFA's top model of Super8 camera. The lens is on par with some higher-end cameras like the Canon 814 and Nizo 481, and almost as good as the Nikon R10. The buttons and switches all have a very professional finish, however the body is only hard plastic. Manual exposure will work without the EE but batteries still need to be in the camera to use it. The trigger has a pretty cool feature in that if you depress it halfway it will do normal shooting and if you depress it fully the camera will perform a crossfade. The motor is actually pretty quiet; I've found it to be significantly quieter than a Canon or Nikon and almost as quiet as the Bauer 715 and Nizo sound cameras. The one negative is that the camera by itself has no tripod thread on the bottom with the handle folded up, and will not function with the handle folded up either. There is a specific accessory you can get that attaches to the bottom of the camera and will fix both of these issues, but I don't understand why this wasn't addressed in the original design of the camera. Even if you don't have the accessory, this would make a great camera for a film student or someone just starting to shoot film. It's easy to use, simple to understand, could be used with sound and won't cost you that much on a good day. I purchased mine for $45.
eBay Auctions
[
edit
]