Agfa Microflex 300 Sensor
From Super8wiki
AgfaMicroflex 300 Sensor
Year: 73-77
Weight: 540 g
Lens: Agfa Movaron 1,9 / 8 - 32 mm
Auto / Manual Zoom with 1 speed
Frame rates: 18
Auto Exposure (TTL)
Backlight Control
Fades
Remote control socket
No sound
2 X 1,5V batteries + No separate battery for light meter
Made in Germany
Manufacturer: Agfa-Gevaert
Original price in England (in the year of introduction): £149
Price(s) on eBay:
eBay USA:
eBay Germany:

EUR 15,00 (+ EUR 5,90 shipping) in 02/2008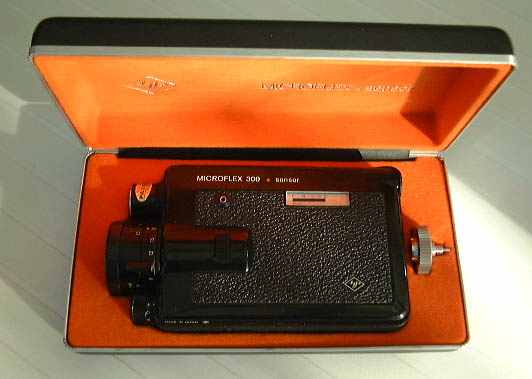 Comments
[
edit
]
Looks like Agfa Microflex 200 Sensor but has better lens, motor zoom and fades. It is similar to the Minolta Pocket-8 400.
the silver thing in the box in the photo is a special attachment for disabling the daylight filter. in the tripod mount hole there is a lever that when pressed moves the daylight filter out of the way.
this camera does not read the film speed cartridge notches at all, so it assumes all films to be 40asa.
it does read the diference between daylight and tungsten film but with todays films this is probably no longer relavant.

This camera has TTL metering. so it can't be made to work with 64t film by putting a filter over the light sensor (TTL =Through The Lens) although this is possible with the original microflex sensor 100 model. which has a light sensor above the lens, in the microflex 300 Sensor this space is occupied by the zoom motor.
The only two posibilities to use 64t are
A. Put a filter infront of the light sensor inside the camera, this would require almost completely dismantling the camera.
B. Adjust the sensitivity of the light sensor to make it meter properly for 64t film. this is made more dificult by the fact that the microflex 300 dosent have a light meter display, but using the under exposure indicator and an external light meter should be possible.
note that both these modifications would render the camera incapable of using other films.
eBay Auctions
[
edit
]
If you know a better eBay search, please edit this section and enter it between the tags